Welcome, Dr. Anthony Wiggins!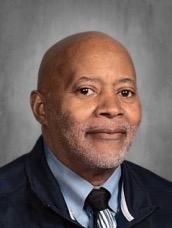 ---
Growing up in church, Anthony always knew teaching was going to be a part of his future. Before obtaining his undergraduate degree from Ashland University, Anthony served as a youth Sunday School teacher. "I've always loved working with young people whether it's teaching them about God's grace and mercy or from my lesson plan."
For over 30 years Anthony has been shaping and molding the lives of young people because he feels like this is what God called him to do. Anthony stopped teaching for about five years when God gave him another mission to serve as a Hospice Chaplain for Adoration Hospice. Divine intervention is what brought him to Cleveland Central Catholic. He was invited to attend a Lunch and Learn and discovered CCC was looking for a 12th-grade Reading Skills teacher. Anthony decided to apply, and God worked out the rest. Anthony is excited about his journey at Cleveland Central Catholic. "It's been a true blessing to not only make a difference in our students' lives but it's been amazing to reunite with my favorite former colleague and co-teacher Mr. Joseph Rock."
Anthony grew up in East Cleveland, Ohio and is the second oldest of nine children. Anthony has been married to his wife Valerie, for 44 years. They have two children, SSG Michael J. Wiggins who died January 23, 2007, while serving our country in Iraq, and Nichole Wiggins Caliph who is the Marketing and Communications Manager at Cleveland Central Catholic. Anthony and Valerie live in the Cleveland Heights area and are active members of Friends Fellowship Bible Church where he serves as Pastor. What he's looking forward to while teaching at CCC is to continue sowing seeds into our students' lives. "Our kids need to know how special they are. I'm honored to teach and serve them every day."